Now Serving Onalaska, Livingston, Tomball, Magnolia, Conroe, Huntsville, Houston and Surrounding Areas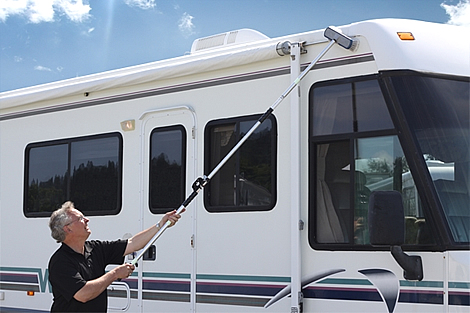 To maintain your investment, regular cleaning and detailing of your RV is essential. Our experienced staff has the knowledge and professional skills to thoroughly clean your RV, being careful to reach every nook and cranny.
Different products and care are needed for the cleansing and protection of those multi interior and exterior surfaces such as: gel – coated, aluminum, chrome, interior leather, Granite, and marble.
Whether you have a $50.000 C class, a $400.000 Monaco or a million dollar Prevost – We can shine them all inside & out!
Whether you desire a simple wash, wax or some interior cleaning
Detailing a RV and protecting it could never be more important. Block out the UV rays, treat the leather, vinyl and paint regularly and maintain long-term value!
We use chemicals that are safe for your RV's decals, gelcoat, fiberglass and painted aluminum surfaces. Non-abrasive, non-flammable and Biodegradable.
Some of the RV services we offer include:
Hand Washing
Interior cleaning – carpets, vacuuming, stain removal, windows, dash, etc.
Bug Removal
Engine Cleaning
Semi Detailing
Boat Detailing
Auto Detailing
Quick & Dependable!



For estimates call:
936-439-2366 Office
936-439-2427